We have all had honorable plans that involve throwing your family in the car or gathering your group on a cross country summer adventure creating lifelong memories. The expectation is almost always better than the outcome. We have all seen National Lampoon's Vacation. The countless bathroom break stops, the fights over the single charging port, trying to coordinate the trip with more than one car without anyone getting left behind, having to back track and recalculate because you missed your turn, an unexpected car breakdown, etc. The list goes on and on and is near impossible to plan for. Not to mention all the sites you miss along the way because you're focused on the road.
What if you could get the road trip experience of seeing our beautiful country with your group or family and even bring your extended family and not have to deal with the trouble? If you like the sound of that, then a Charter Bus trip may be in your future.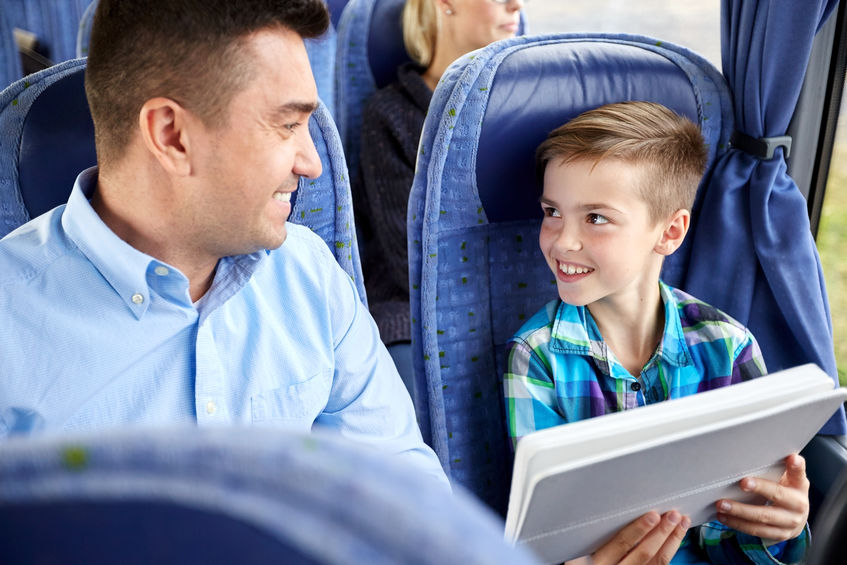 Below are some common questions and misconceptions regarding Bus Charter Travel busted!
Is Charter Bus Travel Safe?
Yes! Bus Charter is one of the safest forms of travel. Coming in after air travel, charter bus travel is the second saftest mode of transportation. In fact, it's 50 times safer than personal car travel. Each charter bus, or at least the charter bus carriers that we here at STM Driven partner with, has details on regulations, records, and reports from the US Department of Transportation and Federal Motor Carrier Safety Administration to ensure that buses and drivers have a safe and reliable history. All our charter bus partners are properly licensed, insured, and regularly maintained with your safety in mind. Additionally, charter bus drivers have specialized training in defensive driving and the best on-the-road practices.
Is Charter Bus Travel Hard to Book?
No. It is not complicated at all. It couldn't be simpler and much easier than coordinating several different individual itineraries. STM Driven books more than 2300 Charters annually and has the process streamlined. You provide us with a basic itinerary (in most cases, just dates and locations are needed), we bid your service within our network of trusted vendors. We provide you with 3-4 of the best options available as well as budget savings suggestions. You choose the vendor and then we confirm all movement details and provide you with all necessary information pertaining to your trip. It is that simple!
Is Charter Bus Travel Complicated and Expensive?
Not at all! In fact, Charter Bus Travel simplifies many of the typical travel complications. Your tour operator picks you up and drives you directly to your chosen location. There is no additional transportation needed as you would typically have when you travel by plane. You have flexibility to choose the time you travel, and cancellations and changes rarely ever happen, and the cost is considerably less that group travel by air.
Is Bus Travel Uncomfortable?
Typically, charter bus travel is much more comfortable that car or airplane travel. The seats are plush and have plenty of legroom. Many charter buses are equipped with multiple charging ports and free Wi-Fi, and you don't have to go in airplane mode during your trip. Charter bus travel also gives you the ability to get up and move around. Many buses are equipped with restrooms as well. There is plenty of space for your personal belongings, and you don't have to worry about losing your luggage because it travels with you. A bonus, you have the option to stop and stretch your legs and get a bite to eat along your journey.
Interested in learning more about STM Driven Ground Transportation for your group or family summer travel, contact STM Driven today!
STM Driven provides bus charters for groups throughout the United States. Our team consists of seasoned travelers and travel agents. We're also available 24/7 for any questions or concerns, rain or shine. Reach out to us for pricing, amenities, or any other travel questions.